| | | |
| --- | --- | --- |
| | | Issue 2 (2006) |

DermoCosmetics
Topical Cannabinoid-Receptor-Agonists
A Rational Option for Skincare in Itchy Dermatoses

Report by Dr. Joachim Kresken, Viersen

A skincare product with an innovative formulation and incorporating the cannabinoid-receptor-agonist N-Palmitoyl ethanolamine as an itch-relieving active (Physiogel A.I. Cream) was the subject of a lunch symposium, sponsored by Stiefel Laboratories, during the 10th Annual Congress of the Society of Dermopharmacy, held in Münster on the 4th. and 5th. of April 2006.. Actual data from neuro-anatomical and clinical investigations were presented, demonstrating the beneficial use of this product for skincare in itchy dermatoses and as a preventional agent in reducing the damaging consequences of exposure to UV-irradiation.
---
"Chronic, therapy-resistant pruritus of various genesis is a common problem in the everyday life of a dermatologist", according to Associate Professor Sonja Staender from the University Hospital of Muenster, who is running a special consultancy hour for patients with chronic pruritus. Since conventional therapy regimes do not work in many cases, new rational options for skincare and relief of pruritus are required.
.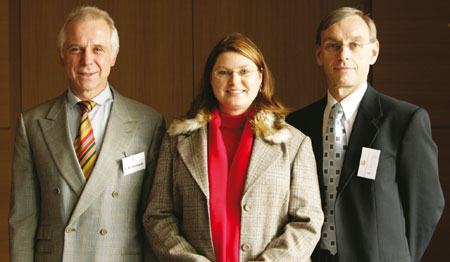 A skincare product with an innovative formulation of an anti-itching-active was the subject of a lunch symposium during the 10th Annual Congress of the Society of Dermopharmacy, held in Münster. The speakers were (from left to right): Dr. Hans W. Reinhardt, Offenbach, PD Dr. Sonja Staender, Muenster, and Professor Dr. Lajos Kemeny, Szeged/Hungary.
Physiological substance
as principle of action
---
Sonja Staender presented the results of recent neuro-anatomical investigations demonstrating the beneficial use of cannabinoid-receptor-agonists in the treatment of pruritus. Cannabinoid-receptors are expressed in cutaneous sensory nerve fibres and histamine-releasing mast cells. Agonists of these receptors act as mast cell stabilisers and so inhibit the histamine expression, responsible for pruritus.

N-Palmitoyl ethanolamine (PEA), a physiological substance, is creating increasing interest as a potential, endogenous cannabinoid-receptor-agonist. Several papers demonstrate the anti-inflammatory and antioxidative effects of this substance, which is present in the stratum granulosum of mammalian and human skin. Since PEA levels are increased in inflamed tissue, a skin protecting effect can be postulated.

Although the exact mode of action has not been elucidated as yet, several pilot studies conducted with a marketed PEA-cream have demonstrated its efficacy against pruritus and skin inflammation.

Proven Efficacy in Pruritus
---

Professor Lajos Kemeny, Director of the Department of Dermatology at Szeged University, Hungary, conducted an open clinical trial comparing Physiogel A.I. and Hydrocortisone 1% cream. Both creams were applied twice daily in an intra-individual left-right comparison on the volar side of the forearm in 15 atopic dermatitis (AD) patients over a period of 4 weeks.

While hydrocortisone cream reduced erythema slightly more effectively than PEA cream; PEA cream was as effective as hydrocortisone cream in the reduction of pruritus.

In another open study conducted by Sonja Staender, at the University of Münster, in 22 patients (12 female, 10 male, 25-82 years old) with prurigo (n=13), lichen simplex (n=2) and pruritus (n=7) PEA cream was applied twice daily. 14 Patients (63,6%) showed a good or very good anti pruritic effect. The mean significant reduction of pruritus was about 86,4%.

The tolerance of the cream was good in all patients, no uncomfortable sensations, such as stinging, burning or contact dermatitis were reported. The presented results show that skincare creams containing cannabinoid-agonists are efficacious and well tolerated in treatment-refractory pruritus.


More possible Indications

---

Professor Kemeny has investigated the use of PEA cream in further therapeutic indications. In one study, 26 healthy volunteers applied the cream twice daily over a period of 4 weeks to part of the skin, leaving an untreated control area. Both skin areas were then irradiated with a defined UV dose. The resulting erythema intensity was measured spectrofluorimetrically.
Results showed, that the erythema were much less intensive in those areas treated with PEA cream.

The formation of thymidine-dimers was considerably reduced in areas treated with the test preparation and this was confirmed by histochemical tests on the skin biopsies of 5 volunteers. In a control experiment, when PEA cream was applied only 20 minutes before UV-irradiation, it could be demonstrated, that there was no direct UV absorption from the test preparation.

These results suggest that a regular application of PEA containing skincare cream to sun exposed skin areas - in addition to sunscreens- should be an effective prevention tool in reducing the damage caused by UV-irradiation.


Innovative formulation
contributing to Efficacy
---
It is considered by Dr. Hans W. Reinhardt, pharmacist and head of the Scientific Department at Stiefel Laboratories GmbH, that the skin soothing properties of the cream are not only a consequence of the active but can also be attributed to the innovative galenical structure of the cream, which features the so called "Derma-Membrane-Structure" (DMS). The basis for this novel vehicle system is that it avoids the use of conventional emulsifiers which can damage the vulnerable skin-lipid-barrier, by emulsifying and washing out essential skin lipids.

The DMS® system combines water and lipid phases without emulsifiers and it contains hydrated phosphatidyl choline (HPC). In contrast to other related liposomes, HPC formis lamellar rather than vesicular structures which are analogous to the barrier lipids in the stratum corneum and these lamellar structures are arranged in double layers.
A further decisive advantage of HPC is that it has a very low skin irritation potential in contrast to conventional cream emulsifiers. The manufacture of these cream-like preparations using HPC is a specialised process and must be carried out under high pressure with long homogenization times.

top